Infiniti to showcase its future of design with Q80 Inspiration and Q60 Concept debuting at 2015 CIAS

Infiniti Q80 Inspiration and Q60 Concept will make their Canadian debuts and share the stage for first time in Toronto, February 13-22.
Jan 21, 2015; MISSISSAUGA, ON.
– After achieving its best year ever in Canada, Infiniti is already looking ahead to the future. Today, the brand announced that, for the first time, the Infiniti Q80 Inspiration and the Infiniti Q60 Concept will share the stage together when they make their national debuts at the Canadian International Auto Show (CIAS) in Toronto, February 13-22. The two vehicles show the direction Infiniti will take as it continues to expand its portfolio.
"As Infiniti continues to grow in Canada and globally, our vision is clear – to deliver a range of vehicles defined by emotive design, meticulous attention to detail, unsurpassed hospitality and intuitive technology," said Wendy Durward, Director of Marketing, Infiniti Canada. "To have both the Q80 Inspiration and Q60 Concept together in Toronto will be a treat for all who visit the show – they are truly spectacular designs and represent the future of Infiniti."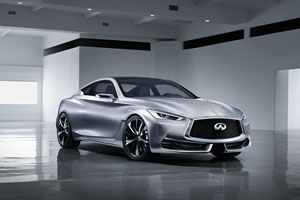 About the Infiniti Q80 Inspiration
The Q80 Inspiration is a brave statement of intent from Infiniti - a bold concept that hints at the future Infiniti design language and smart powertrain technology. Featuring autonomous driving technology, a human-centric interior, a bold design and an eco-friendly hybrid powertrain, the Q80 Inspiration has been designed to disrupt the premium sedan category with elegance, style and emotion.
At just over five meters long (5,052mm) and two meters wide (2,027mm), this is a full-size concept vision of a range-topping Infiniti that's demands attention with its extraordinary presence. Organic forms and poetic artisan design converge with the latest composite materials, while portal-style doors invite a cocooning '4x1' seating experience with a full spectrum of leather, Alcantara and metalwork finishes. Exceptional performance is delivered from an all-new, high-performance and fuel-efficient hybrid 550hp electrified powertrain that provides a glimpse of Infiniti's future performance models.
More information on the Q80 Inspiration can be found at
Infinitinews.com
About the Infiniti Q60 Concept
Fusing exhilaration and power, the Q60 Concept is Infiniti's precursor to a high-performance sports coupe and features a unique proposition of striking styling and a high-output powertrain – all in a premium package. Its unique combination of eye-catching contours, heart-pumping power and high-quality premium finishes gives premium customers a fresh and expressive style icon to which they can aspire.
The precise lines, sharp edges and striking dips in the body sides all come together to give the Q60 Concept a powerful road presence to match its top-notch performance. At 4,690 mm long, 1,865 mm wide and 1,370 mm high, the two-door concept is as sporty in motion as it is at rest and, with its next-generation 3.0-litre V6 engine with direct injection and twin-turbocharging, the Q60 Concept is expected to deliver exceptional performance befitting a true-blue sports car.
More information on the Q60 Concept can be found at
Infinitinews.com
Original Article Link:
Infinitinews.com